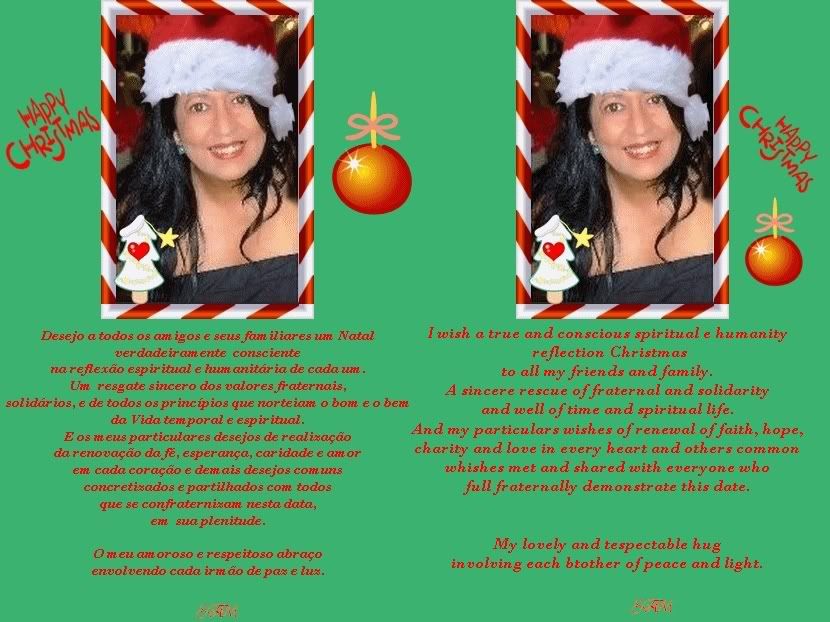 Desejo a todos os amigos e seus familiares um Natal verdadeiramente consciente na reflexão espiritual e humanitária de cada um. Um resgate sincero dos valores fraternais, solidários, e de todos os princípios que norteiam o bom e o bem da Vida temporal e espiritual. E os meus particulares desejos de realização da renovação da fé, esperança, caridade e amor em cada coração e demais desejos comuns concretizados e partilhados com todos que se confraternizam nesta data, em sua plenitude.
O meu amoroso e respeitoso abraço envolvendo cada irmão de paz e luz.
I wish a true and conscious spiritual e humanity reflection Christmas to all my friends and family. A sincere rescue of fraternal and solidarity and well of time and spiritual life. And my particulars wishes of renewal of faith, hope, charity and love in every heart and others common whishes met and shared with everyone who full fraternally demonstrate this date.
My lovely and respectable hug involving each brother of peace and luz
Todos estão falando sobre
Revolução, Evolução, Masturbação,
Flagelação, Regulação,
Integrações, mediações,
nações unidas, - parabéns
Tudo o que dizemos é dê uma chance a paz
Ev'rybody's talkin' 'bout
Revolution, Evolution, Masturbation, Flagellation, Regulation,
Integrations, mediations, United Nations, congratulations
All we are saying is give peace a chance
All we are saying is give peace a chance
John Lennon e Paul MCcartney